Recipe: 'The Renaissance'
By Wayne deGroot Zen'Za Pizzeria
Features
In the Kitchen
Recipes
annex
recipe
the renaissance
wayne degroot
zen'za pizzeria
The Renaissance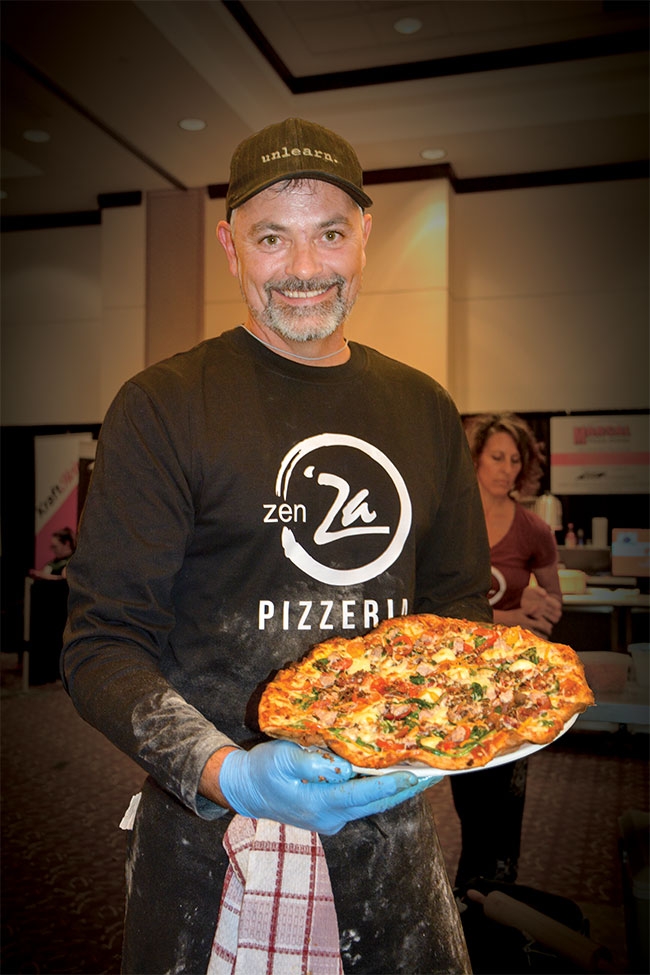 This pizza was known as Chef's Choice until chef Wayne deGroot and wife and business partner Jocelyn Morwood-deGroot learned the owner of the highrise where they live and work in London, Ont., loves the pizza.
The couple pay homage to the building name "The Renaissance" with this mix of a meat lover's and a loaded vegan pizza. "Lots of whole food. Lots of proper nutrition that sits on a crispy, thin crust," deGroot says.
DOUGH
Whole-wheat flour
All-purpose flour
Dry yeast
Salt
Water
SAUCE
Organic tomatoes
Garlic
Sweet onion
Seasoning
TOPPINGS
Garlic-oiled organic spinach
Organic sweet potato
Organic grape tomatoes
Organic sausage
Organic bacon
Bocconcini mozzarella
Parmesan cheese
METHOD
We start with local flour, mixing the company's whole-wheat and all-purpose flour with dry yeast, salt and water. Then we ball up the dough and let them sit for a half day. We make our own sauce using organic tomatoes, garlic, sweet onion and seasoning. We use the double-bake method and top it up with garlic oiled organic spinach and sweet potato, organic grape tomatoes, organic sausage, organic bacon, bocconcini mozzarella and Parmesan.
We finish by sprinkling on a little bite of housemade cayenne pepper sauce.
---
Wayne deGroot and wife Jocelyn Morwood-deGroot own Zen'Za Pizzeria, in London, Ont.
---
Print this page