Chef of the Year West Competition opens as part of Bakery Showcase!
By Canadian Pizza
Features
News
Business and Operations
Trends
bakery showcase
chef of the year
editor pick
events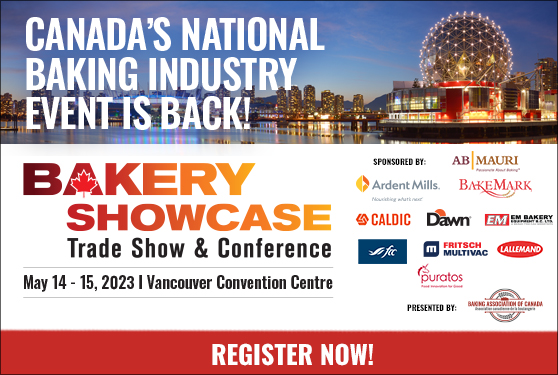 The Baking Association of Canada's Bakery Showcase will take place May 14-15, 2023, in Vancouver, and for the first time, will play host to the Canadian Pizza Summit and Chef of the Year Competition!
The BAC welcomes bakeries, pizzerias and allied businesses to Canada's premier baking industry event – the largest and only baking industry business-to-business trade show and conference produced in Canada.
Pizza makers are bakers too, and in 2023 for the first time, the Canadian Pizza Summit and Chef of the Year Competition will be part of longtime baking industry event.
Join thousands of industry professionals from bakeries (retail, wholesale, commercial, in store), grocery and food-service outlets.
Exhibit in the trade show filled with 350 booths in about 100,000 square feet showcasing baked goods (fresh, proof-and-bake, par-baked, freezer-to-oven, thaw-and-serve) baking ingredients, equipment, packaging services and technology.
Enjoy the company of your peers, recharge and benefit from an exciting lineup of inspirational speakers, education sessions, competitions and demonstrations, including:
Top pizza chefs, including Diana Cline of Diana's Cucina and Lounge in Winnipeg, demonstrate pizza-making techniques – dough preparation, stretching, balancing flavours and more – at the Canadian Pizza Summit stage.
Women in Pizza: Canada Edition panel of outstanding entrepreneurs!
Modernist Pizza's chef Francisco Migoya will speak on the history of pizza, including valuable tips for improving your pizza dough and balance.
The Canadian Pizza Summit and Chef of the Year Competition featuring top chefs vying for a trip to Las Vegas Pizza Expo! Discover what the most creative pizza chefs in Canada are doing with dough and toppings. And, if fresh pizza is a significant part of your business, plan to register to compete (registration opens Feb. 1, 2023).
A new Mother's Day Celebration Cake Decorating Competition sponsored by Dawn will allow baking and pastry students to flex their creativity and display their new skills in honour of this very special person!
A panel celebrating Women in Baking brought to you by Ardent Mills.
Baker and podcaster Mark Dyck offers guidance on how to tell the story of your bakery . . . and how it can help your bottom line.
The Baking Association of Canada's annual general meeting and meet-and-greet: Come see what the BAC is up to and what it can do for your business.
A panel of up-and-coming bakeries share their origin stories, struggles and triumphs.
What does a sustainable bakery look like – and how do we get there? Learn strategies from a panel that includes Matt Cimon, president of Portofino Bakery and co-founder of Bond Bakery Brands.
Top bakers and pastry chefs demonstrate techniques – Viennoiserie, croissants and much more – and field questions on the baking stage.
Bakery owners, ITA training experts and instructors gather for a spirited education panel focused on apprenticeships.
Surprise baking and pizza industry celebrities!
And much more!
Save the dates (May 14-15, 2023), watch baking.ca for program updates and register now! 
After you've registered for Bakery Showcase, why not enter Canadian Pizza Chef of the Year West Competition to try to win a trip to Las Vegas Pizza Expo! Register to compete!
---
Print this page