Spicy craft beer from Waterloo Brewing Co.
By Canadian Pizza
Products
Front of House
New Products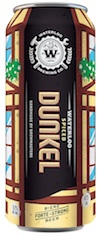 Waterloo – Waterloo Brewing Co., the craft brewing division of Brick Brewing Co. Limited has released a new beer in its Small Batch Brew series: Waterloo Spiced Dunkel.
"With cooler temperatures, people become more interested in fuller, richer flavours in their food and drink," said Russell Tabata, chief operating officer for Brick Brewing, in a news release. "Waterloo Spiced Dunkel brings together the spices of Autumn – cinnamon, ginger, nutmeg and cloves – with a classic German Dunkel. It's an all malt, mahogany craft beer with a subtle vanilla and spiced finish."
"Kitchener-Waterloo is the beer loving heart of Canada," said Sean Dennis, director of marketing. "In this Waterloo Spiced Dunkel and its can artwork we pay tribute to the proud German beer heritage of our hometown. All our Small Batch Brews start with a genuine German beer style then we add our own local flair."
Waterloo Spiced Dunkel is available for a limited a time only at the LCBO in 473 ml cans for $2.75 including deposit.
---
Print this page