Panzerotti vs. calzone
By Roberto Vergalito
Features
In the Kitchen
Techniques
calzone
demo
panzerotti
panzerotti vs calzone
roberto
roberto vergalito
video
Roberto Vergalito explores the intricacies of the calzone and the panzerotti.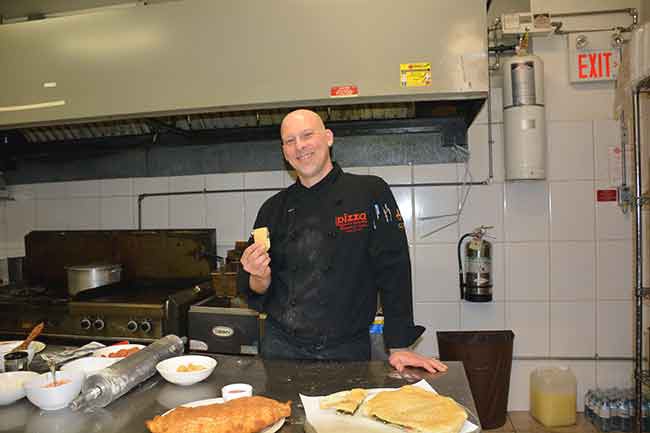 You could say calzones are a big deal to Roberto Vergalito. In October 2014, Vergalito, who owns and operates Roberto's Pizza Passion in St. Catharines, Ont., made a bid in August for the world record for longest calzone.
His pie was 51 feet, two inches long by 2 feet, 5 inches wide weighing 138 kilograms! He then cut up the mammoth calzone and sold the pieces, with proceeds going to the United Way.
Vergalito, who competed with and coached the Canadian Pizza Team for several years, has written columns for Canadian Pizza on many topics as "The Pizza Dude."
We asked him to explain the differences between the calzone and its cousin, the panzerotti, and to share tips for making these mouth-watering pizzeria mainstays.
He was kind enough – and patient enough – to undertake a video shoot to kick off our new website feature, Tips & Techniques.
Tune in to Roberto's "Panzerotti vs. Calzone" for a little history of the favoured pies, along with some great tips on making and serving them.
Take-away tips
Panzerotti originated as a pizza tart that was deep-fried or pan-fried, Vergalito says, while a calzone is a baked pizza turnover. Both are thought to have originated in southern Italy.
Calzone:
Pizza turnover
Use your hand for support when folding
Make sure edges are sealed: try using a roller
Important! Poke holes or slits in the top
Bake at 500-550 F
Panzerotti:
Originally a deep-fried or pan-fried pizza tart
Don't stretch dough out completely
Make sure edges are sealed: try using a roller
Important! Don't poke holes in the top
Deep-fry at 325 F.
---
Print this page