Neighbourhood pizzeria
Colleen Cross
Features
Business and Operations
Profiles
Conzo's Pizza of Toronto serves New York-style with a community-first model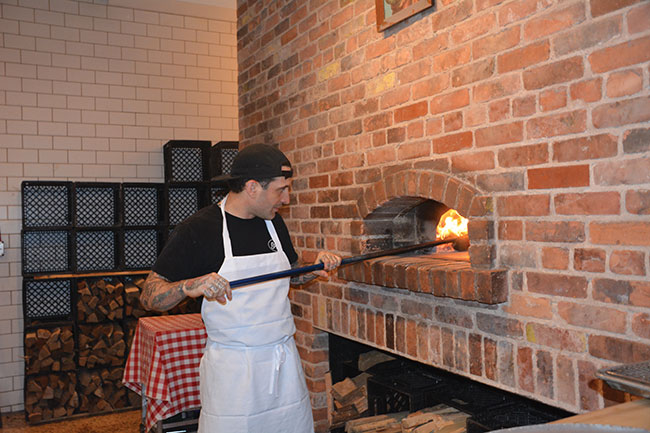 Every pizzeria has a story and the story of Conzo's Pizza in Toronto will make you appreciate your neighbourhood and the people around you.
The bustling pizzeria, along with its partner Italian restaurant, Sugo, next door, is a cornerstone of the city's Bloordale Village. The neighbourhood, which encompasses Bloor Street West between Dufferin Street and Landsdowne Avenue, is coming back from a rough patch. The highly diverse, mixed-income community is home to restaurants, bars, vintage and thrift shops, and a mix of Portuguese, Caribbean, Italian, Bangladeshi, Vietnamese and numerous populations. It suffered a decline beginning in the 1980s when the drug culture touched many lives. 
Conzo's started life in 2012 as The Emerson bar and restaurant, run by Conor Joerin and Scott and Michelle Pennock. The Emerson was known for great food and also for its part in a culture of drinking and partying, Joerin tells us on a steamy day in June when we visited.
Wanting to create a pizza place that prioritized health and a positive attitude, Joerin says, "we got busy and changed our work culture."
Joerin and the Pennocks, worked with restaurant partners Alex Wallen and Lamine Martindale to open Conzo's in February 2020. 
The change in culture started at the top: the drinking stopped and the team developed a healthier outlook. Their employees play a big role in that new attitude. Among others, they hired teenagers and young people just out of school who belonged to local gyms and were active on the boxing and jujutsu circuits. Some became professional athletes. Wallen, who was himself an amateur boxer and the restaurant's bartender, grew up with Joerin in the neighbourhood and Lamine grew up nearby. The new hires include young women, some of whom work in the kitchen.Conzo's also sponsors professional and amateur jujitsu. 
"We were sick of hiring from same pool and promoting the late-night scene," Joerin says.
One day Wallen went to the gym and said, "Who wants a job?" 
"The new approach is working," Joerin says. "It's attracting good people. It gives them a fresh start." 
Training people to bake in their custom-made wood-fired oven was tricky but the new hires were keen and eager to learn.
The cornerstone of Conzo's, the oven was built during renovation using brick from Joerin and Wallen's local high school, which was recently demolished to make way for residential development. The idea was to match the existing brick walls they share with partner restaurant Sugo.
To get the bricks, they bribed the contractors with veal sandwiches.
The building of the oven and the work involved in operating it – and training others to operate it – were a surprise to Joerin. "I said, 'Let's build a wood-fired oven.' I like to learn new things."
Conor says he'd never made pizza in his life. He and the partners talked to the experts. They got advice from Leo Baldassarre of Famiglia Baldassarre, James Carnavale of Bar Ape Gelato and other established and respected businesses.
COVID's impact
Conzo's opened five weeks before the pandemic. So although their idea for a feel-good, positive neighbourhood pizzeria was right for the moment, COVID put on hold their plans for growing their dine-in-only restaurant with a wine bar next door. 
"We didn't get a momentum going," Joerin says. The pizzeria sat empty for months. "We didn't want to be a slice shop or do delivery."
They paused their pizzeria during the early pandemic and started doing a lot of work in the community raising money and donating pizza to emergency workers, the local Lansdowne fire station and other causes. 
They set up a group chat among friends calling themselves "The Marinara Boys," which did a lot of charity work, including donating pizzas to shelters and soup kitchens. "We fed a lot of people who can't reasonably afford to dine here," Joerin says. They also did a biweekly cook for the Parkdale Food Bank and Toronto EMS, and their mentor Leo Baldassarre drove lasagna down personally.
While all this was happening, their sister restaurant, Sugo, next door, which had opened in 2018, helped pay the rent to keep their business going. The partners have since built a commissary kitchen that now serves both businesses. 
New York style
Joerin describes their pizza as a cross between New York and Italy with lots of crumb in the crust. Their large pizza is 17 inches in diameter and features Sugo's signature sauce. "Sugo sauce is thicker, lower in acid and features onions and red peppers). They jar the sauce in house and are working on a co-packing arrangement to make the labour-intensive task easier. 
"It's rewarding. We grew up eating this kind of pizza. Every pizza is different – just like every person is different, I like to say."
New York tour
They went to New York City to explore New York-style pizza. Some of their favourites include Lucali, Scarr's, Prince Street and Giuseppina's. Impressed with what they learned, they set about creating their own version of New York-style pizza.
They make the dough using local flour over a 48-hour fermentation. They use a biga/mother dough/poolish/sourdough starter and add to it (not totally sourdough). They add starter to the existing dough. "It's not technically a sourdough, but it develops good flavour in the dough," Joerin says. 
Conzo's tour
The pizzeria's warm, orange-brick-walled interior is long and designed to draw the eye back to the oven on the back wall. Featuring a mixture of industrial and schoolhouse lights, the restaurant seats 60-65 people at cosy wooden tables, bar seating for 10 and a smattering of outdoor tables that serve to attract diners.
Joerin takes me through the commissary kitchen, stopping to stir the vat of sauce, introducing me to three team members working hard. He takes me downstairs to the temperature-controlled dough room, set up to shape and store boules. We look at the walk-in refrigerator where he pulls out the next stack of dough trays to take them to the kitchen. We then step outside where Canadian maple is stacked in neat piles in a protected, caged corner. 
It's important to use the same hardwood so it heats up in a consistent way, Joerin says. Staff take turns chopping wood. Some like it more than others, he adds with a smile, noting that a number of young boxers are used to chopping wood as a training method to build shoulder muscles and technique.
As the shift begins, staff get a pep talk where they go over any questions about the menu or issues from the previous shift. Pizza makers show an easy camaraderie as they reach across the make line to hand over pizzas to Joerin at the oven.
The review
Conzo's got a lot of mileage out of a positive review this spring by David Portnoy, who hosts a popular U.S. website, podcast and YouTube channel called Barstool Sports. Portnoy visited Toronto, sampled a handful of pizzas and posted his "One-Bite Pizza Reviews" on YouTube. That post has received over 593,000 likes.
"It's been great for our business," Joerin says.
Joerin, whose family originates from Ireland, is a walking encyclopedia of Toronto pizza knowledge. He is quick to sing the praises of other Toronto pizzerias. Conzo's menu pays unabashed tribute to a handful of the city's pioneering pizzerias.
They owe a debt of gratitude to these pizzerias, Joerin says, as he proceeds to recommend other pizzerias we should check out. Plenty of people are recommending Conzo's as well, which looks set to be part of Bloordale's rejuvenation.
---
Print this page