LloydPans introduces al taglio-style pizza pans
By Canadian Pizza
Products
Back of House
New Products
al taglio pizza pans
lloydpans
roman pizza pans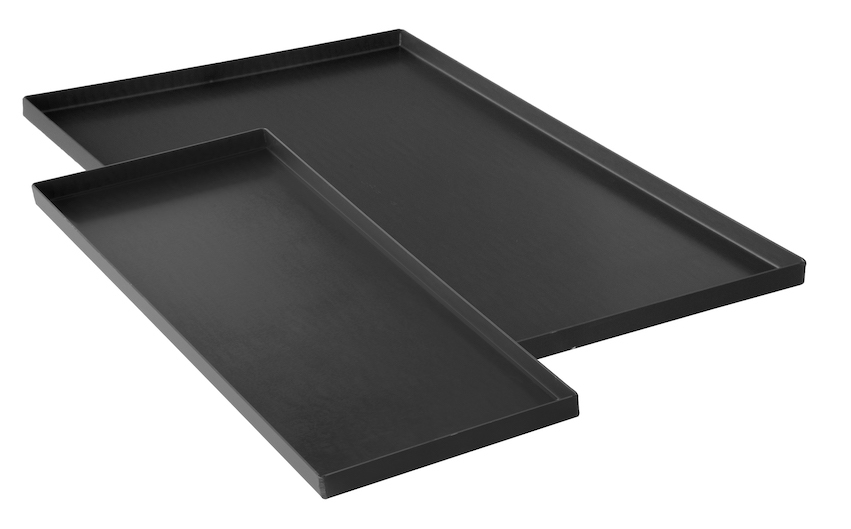 LloydPans has introduced a line of pizza al taglio pans.


The company also makes popular regional pans for Detroit, Sicilian-style, deep-dish and "Grandma-style" pizzas.
Pizza al taglio has its origins in Rome, but is quickly gaining popularity. The Roman-style pizza is rectangular in shape, served by the slice and designed for a grab-and-go eating experience.
To make its pizza al taglio pans, LloydPans merged traditional Roman-style pizza pans with its proprietary pan technology. To determine pan sizes, LloydPans replicated the size of authentic Roman pans, even changing the company's standard measurement from U.S. imperial measure to metric for accuracy. To ensure durability in a commercial operation, the company uses a heavy 12-gauge aluminum to construct the pan, anodizes it and then applies the company's PSTK coating. This permanent, stick-resistant coating does not require seasoning and is designed to never rust.
"We've carved out a niche in the pizza industry by expertly developing and crafting regional-style pizza pans," Traci Rennaker, LloydPans' president and chief executive officer, said in a press release. "Pizza al taglio is destined to be the next big restaurant trend, and these pans give pizzaiolos, retail bakers and commercial foodservice operators with the perfect pan to deliver a light, airy crust with bite."
The al taglio pans are available in two sizes:
• Full size: 40 x 60 centimetres (15.75 x 23.62 inches)
• Half size: 20 x 60 centimetres (7.87 x 23.62 inches)
They are two centimetres deep and feature a double-thick folded rim to increase durability. LloydPans also has developed two cutting boards to complement the pizza al taglio pans.

lloydpans.com

---
Print this page